The Sgian Dubh (Skee-en-doo) is a traditional singled edged Scottish knife which has its origins during the 17th and 18th century. As a sign of courtesy and etiquette, edged weapons were made visible when entering the home of a friend; which is why the knife is worn in the hose or sock as part of traditional kilt attire.
This project began as a souvenir for professional snowboarder and friend Andre Sommer http://www.andresommer.com/. Andre first visited Scotland in the winter of 2014 to judge the Freeride World Qualifier ski and snowboard event at Glencoe Mountain, he instantly fell in love with the Scottish highlands and promised to return the following year for the same event. During our conversations, I discovered that Andre had spent three months in the wilderness of his native Switzerland living off of the land. He told me owning a good knife and knowing how to use it in the wild is key to succeeding in such an environment, as he used a bushcraft and hunting skills to provide food and shelter. I thought it would be appropriate gift to create a Sgiand Dubh as an ideal memento of his time in Scotland.
With no prior experience of a making project like this, I didn't really set out with any sort of plan other than accepting the fact that crafting the blade from scratch would be beyond my skill level and luckily I managed to source high carbon Damascus steel blades from a local supplier near Loch Ness http://www.lochnessorigins.com/. The rest of the material I had to hand, a few blocks of Spalted Beech, some Laburnum and deer antler; although Beech and Laburnum are not native to Scotland, the pieces I had were felled from trees grown here and the antler sourced from rural areas around South Lanarkshire.
I began by laminating the timber together with high strength two part epoxy, which would ensure a strong bond, I wasn't quite sure how I was going to use the antler so I decided to leave this until later. The Damascus steel blade was a half tang, which means that the back portion of the blade where it connects to the handle is only half the length of the blade itself, this meant having to drill and chisel through the end of my laminated timber to create a cavity for the blade to slot into.
Once I had cleared enough space in the timber for the tang to fit comfortably inside I set it in place with more epoxy, clamped the whole thing together and left it for 24 hours to set properly.
I was quite happy with my handy work so far however I realised there would be a much easier way of getting to this stage and now I had to attempt the difficult part of adding in the deer antler elements. The first noticeable trait of working with deer antler is the horrendous smell when sanding or cutting it, I would definitely recommend a well ventilated area and a sanding mask. Other than the smell, as a material it's comparable to timber in the sense that it can be carved and cut fairly easily with hand tools although it can crack and snap under pressure. Having never really had the opportunity to attempt any interesting jointing or carving work, I figured that these small pieces of antler were as good a place as any to start.
After breaking several pieces and getting quite frustrated, I discovered patience was paramount. Soon enough, I'd carved two pieces which fit into a groove in the base of the handle and one that slipped over the blade and onto the hilt. Once epoxied, the only steps remaining where shaping and finishing.
Sgian Dubh's traditionally are quite thin in both blade and handle, typically symmetrical and comprised of dark stained timber such as Bog Oak. I couldn't quite see myself producing something typical of the historic Sgian Dubh, so an asymmetrical shape formed and rather than using heavy stains I let the natural hues of the timber and antler come through, only used a light wax and oil for finishing.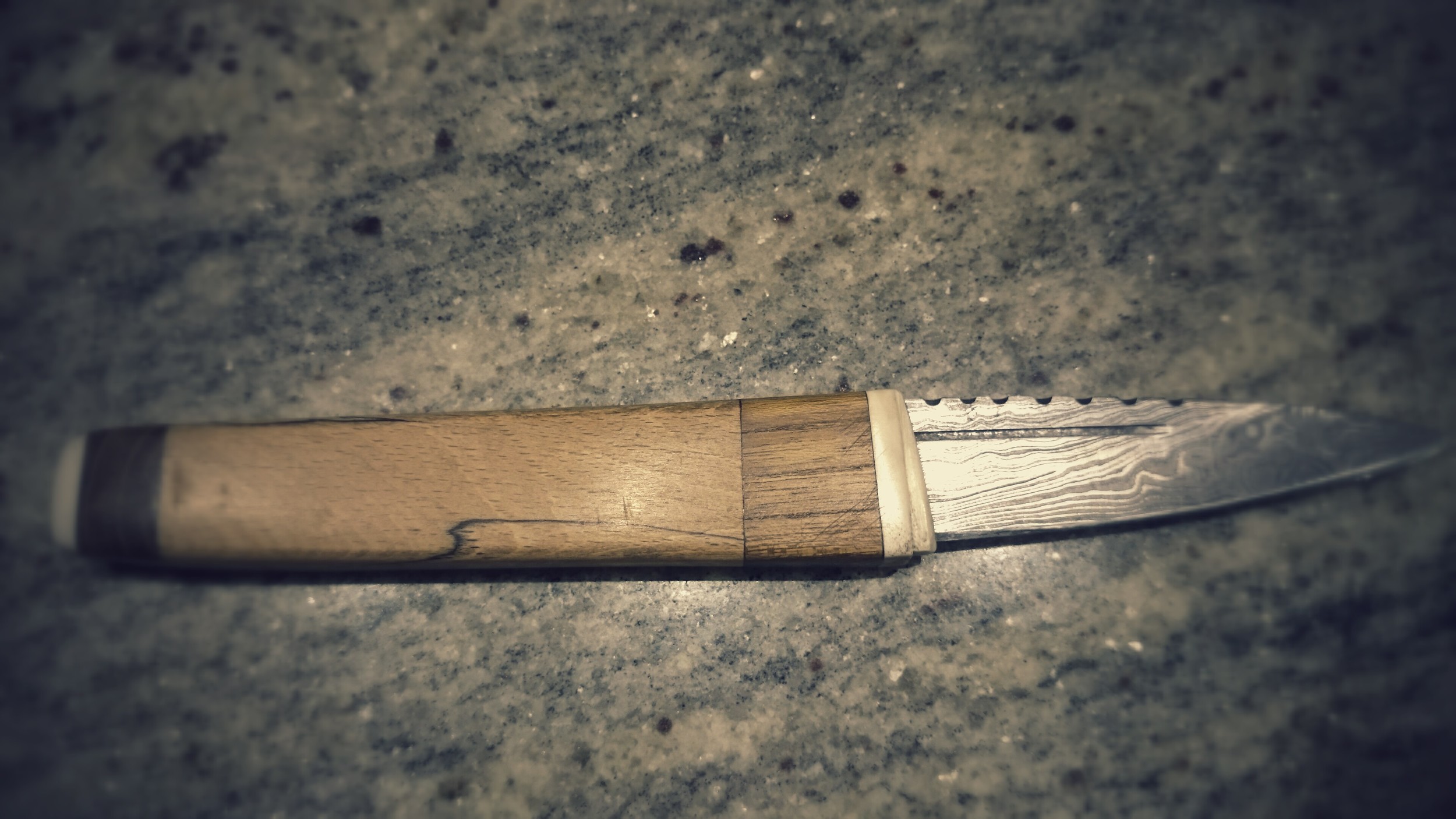 In order to protect the blade and the user, there is normally a wooden scabbard which completes the Sgian Dubh however, time was now pressing and I was fairly confident that I wasn't going to get the scabbard right first time, so I found an alternative option. I used an old piece of leather with some copper studs to form a sheath, this was a really quick fix but it turned out quite well.
For a first attempt I pleasantly surprised myself with how well this turned out and Andre was delighted with his gift when I met with him the following year.
It's good to have small making projects like this; there isn't a great opportunity to make physical objects as part of the design office environment, creating the time for such projects is the difficult part but if the desire to create is there then the time will make itself available. More to come in the near future.